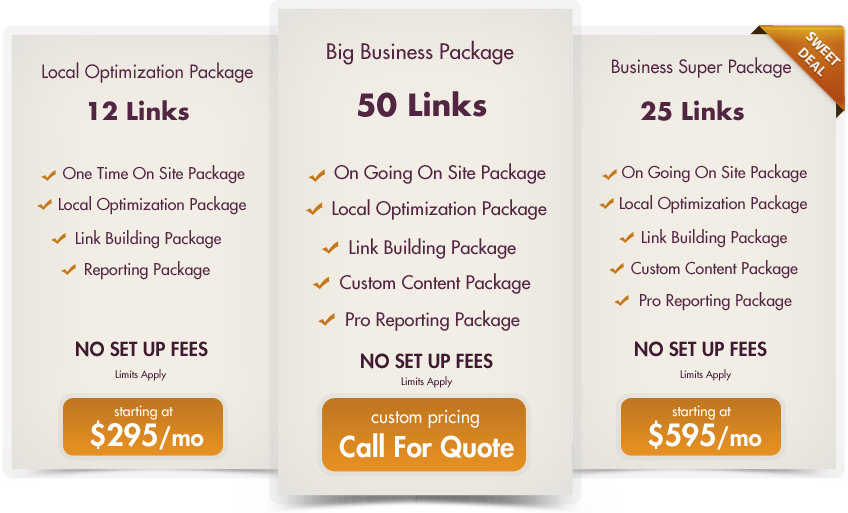 ---
INFORMATION ABOUT OUR PACKAGES
A la cart pricing available upon request
---

On Site Packaging
The techniques we use are innovative and above board, so they'll win you success for the long term. Our on-site optimization palette includes the following:
URL Structuring
Meta Tag Optimization
Inner Linking Strategy
Content Optimization

Local Optimization
Are you a dentist, plumber, restaurant, or other business that caters to local customers. If so, the search engines have made it possible for you to play ball in the search results pages. We optimize your site to get you more traffic that matters.

Link Building
Your links will come from quality sites with unique content. This means your website will get noticed faster and rank higher. We make sure to keep you on the good side of the ever changing Google algorithm. We believe in the long term success of your links and build accordingly.

Custom Content Package
Today's competitive websites have to have unique content that shows immediate value to the search engines as well as your qualified visitors.
Our content package will help your blog not feel so barren. Our articles will also help your site get indexed faster and hypnotize your visitors.

Reporting and Reporting Pro
We use tried and true analytics to determine what is and isn't working for your site. As a transparent SEO Firm we'll keep you informed with regular and consistant reporting every month:
Ranking Report
Link Placements Report
Activity Report (Pro Only)
Traffic Analysis (Pro Only)

Pick One or Two or All
Your business is flexible, so are we. All of our services can be broken out individually so you can take only what you need and save some cash in the process. Give us a call. We would love to help your business get more visibility in the online world.